Magento & Zend Certified Developers
All of our developers are Magento Certified developers and Zend Certified Engineers. Our qualifications assure you that we have the full and deep understanding of Magento required to be able to work effectively with the platform, build things according to best practice and have the skills to resolve issues effectively & efficiently.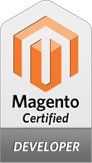 Years of experience and relevant professional qualifications.
Unlike any other agency we are totally transparent on what work we do and how long we took to do it.
We deliver outstanding commercial value through our expertise, clarification of goals and highly skilled developer team. We charge only for the accurate time spent.
Before our developers sit the Magento Certified Developers exam, we first of all focus on ensuring that their all round PHP web development skills are up to scratch. For this reason all of our developers go through extensive training in house and are required to pass the Zend Certified Engineer exam. This exam covers the full spectrum of PHP development topics and ensures that all developers are professionally competent.
All of our developers have additionally attained Magento Certified Developer certification and are recognised by Adobe as having either Professional or Expert status.
Edmonds Commerce has been in business since 2007 and, from the start, our focus was entirely on Open Source PHP e-commerce web development. Magento came on the scene as a real game changer and we quickly grabbed a copy of the first versions that became publicly accessible. We were one of the very first agencies in the UK to work with Magento and have been able to leverage our long experience of PHP and e-commerce to quickly become highly proficient with the platform.
ENSURING YOUR SYSTEMS ARE OPTIMAL
Focused on Technical Web Development for E-Commerce
We keep a tight focus on our core speciality rather than being a jack of all trades full service agency
We will thoroughly examine your project or website for Security, Performance and Code Quality issues and Provide you with Recommended Solutions
Security
We carefully search for security issues such as SQL injection and cross site scripting problems. We also look for developer tools such as phpMyAdmin and others that have been left unnecessarily open to the internet and are easy for attackers to find and break into. Simple issues we will just fix immediately during the audit. If we see something more serious we will also aim to fix it quickly, with your prior approval.
Performance
It is not uncommon for a simple module such as a "best sellers list" to contribute an extra couple of seconds to the loading time of a page. When page load times are so crucial for high conversion rates and good SEO results, this kind of detrimental effect can really be quite damaging.
Edmonds Commerce can help clients to achieve the optimum performance possible for their website and can often recommend performance enhancing options that cost surprisingly little to implement.
Code Quality
Magento has a well established set of best practices which, when correctly adhered to, will mean that your store is likely to be more stable, easier to upgrade and generally better / quicker to work with.
When best practices have not been applied there are often negative impacts on performance, security concerns and difficulties for future progressive development.
Edmonds Commerce will review custom theme and module work for general code quality and will recommend solutions for any performance and security issues identified.
Backup & Code Control
An important, but often overlooked part of running an online business, is ensuring that critical data is being backed up rigorously and also that code changes are properly tracked and audited.
Backup is one of those things you hope you never need, but if you ever do, it absolutely must be right. Code control keeps your project code tracked with a clear audit trail and the ability for multiple parties to work on the code without clashing. It also means that in the event of a failure, the website can be quickly restored to normal operation with minimal downtime.
Server Configuration
As part of the audit we will also look at how your server is set up. Systems such as Magento really demand an optimised server configuration to perform at their best. We will look at how things are currently set up and will list our recommendations to improve performance and security.
SEO
We will look at the way your site is working with regards to SEO and on page SEO factors. There are lots of features in systems such as Magento that provide search engine optimisation functionality. However, like any complex system there are also lots of ways to inadvertently cause SEO problems. We will look for common issues and also give your site a general overview in terms of SEO. If required we can also provide an SEO specific in-depth audit as a separate project.
E-Commerce Businesses
If you have an e-commerce business and you would like to engage with skilled professionals to further develop and grow your business, Edmonds Commerce will be genuinely happy to help. We can provide the technical know-how and reliable service you need to successfully handle issues as they arise and also deliver the more complicated aspects of progressive website development. We are happy to supplement your in-house teams or work with your other digital suppliers to provide the technical resource you need for optimum results.
E-Commerce businesses know well that there are always things to work on including bug fixes, extension installations, performance optimisation, training and support. Edmonds Commerce can be a reliable resource that you can call upon when needed that continually provides you with the robust stability and security you target.
Digital Agencies
Digital agencies know it's difficult to recruit skilled PHP and Magento developers. Independent contractors can sometimes fill a gap or help with a specific project but providing ongoing support and maintenance to clients is often a real problem.
Digital agencies use Edmonds Commerce to provide a consistent and reliable resource to supplement their in-house teams and to handle the more complex tasks that come up.
Under our White Label services, we work with a range of digital agencies across the globe to assist with things like design implementation, bug fixing, SEO improvements and more.
Web Designers
Web designers invest significant time, effort and emotion into providing clients with a design that meets their business requirements and will provide their customers with a comfortable and reassuring purchase process.
Edmonds Commerce can help web designers and their clients successfully implement their design vision as a highly performant Magento theme that is built to the highest industry standards.
Please contact us to discuss how we can help you achieve your vision.
SEO Specialists
Search engine optimisation is becoming increasingly complex, and it's more difficult to tread the correct line ensuring maximum on page optimisation without triggering any over optimisation penalties. Whilst Magento ships with some great SEO features as standard, it is not always perfect. We will work with you to diagnose SEO issues on your site and ensure you get the optimum exposure possible.