Adding Swimlanes To A Kanban Board
Configure Swimlanes to a Kanban Board.¶
In order to correctly configure a Kanban Board's Swimlane, follow the inctructions below.
Go to the Magento Kanban Board that has been created for the client's Jira. You can get to this by clicking on "Projects" at the top of the screen. If it doesn't automatically take you to the board, click on the "Kanban Board" icon on the left hand side of the screen, shown below.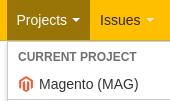 Click on the "Board" drop down button at the top right of the page and then click on "Configure", which is the first option that appears at the top of the list.


On the right hand side of the page, click on "Swimlanes". This will take you to the swimlanes configuration page, where you can see 2 dropdown menus. Open the first one and set "Base Swimlanes on" to "Assignees".


Next, change the drop down menu for "Unassigned Issues" to "Show above other Swimlanes".

To see if this has worked, head back to the Magento Kanban Board and assign an unassigned issue to someone.

If the above has been set up correctly, you will see that the issue is now stored under the assignee's name in the Swimlane. Any other issue that have been assigned to this person ill appear in this group.